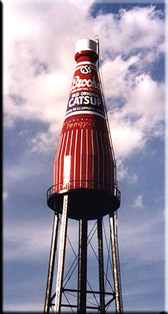 ---

Top Tier Partners: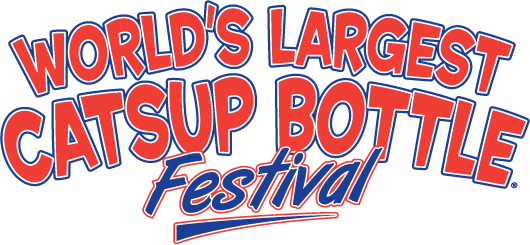 * Sunday, July 9, 2017 * Collinsville, Illinois *
* WODLAND PARK *


---

The 19th Annual Brooks® World's Largest Catsup Bottle® Festival Birthday Party & Car Show is scheduled to be held in

WOODLAND PARK

on

Sunday, July 9, 2017,

from 9:00 am to 4:00 pm in Collinsville, Illinois.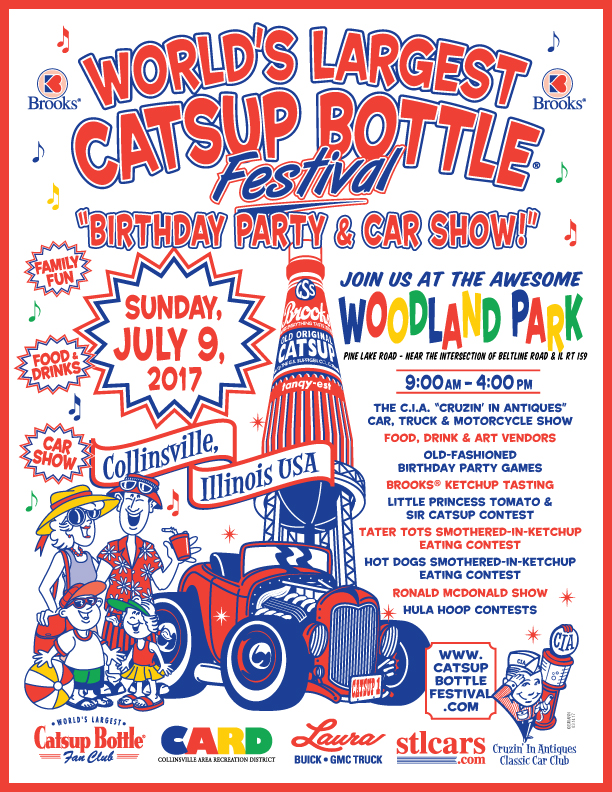 ---
WINNERS! WINNERS! WINNERS!
---
Everyone's favorite events will be back again this year! The CIA Car Show, the Princess Tomato & Sir Catsup Contest, the Hot Dogs & Tater Tot eating contests, the Hula Hoop competition, and much more! Check out the complete schedule here! Plus we have these great new happenings on tap:

NEW THIS YEAR: Free Shuttle Bus!
To help alleviate the parking conjestion, a FREE shuttle bus is being provided to the fest by

First Student Transportation!

Park for free in the side lot of Doris Intermediate School (1841 Vandalia - Rt 159). The bus will run approximately every 10 minutes and drop you off at the entrance to the Catsup Bottle Festival. Take advantage of this new service and you may just get a couple of surprises along the way!

Thank you, First Student!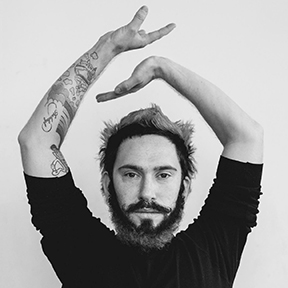 RAINBOW ROAD TRIP USA TO BENEFIT MAKE-A-WISH!

Mykey O'Halloran, from Melbourne, Australia, will be here as part of his state-side Rainbow Road Trip visit styling hair in the form of well-known landmarks and raising money for the Make-A-Wish Foundation. Meet & Greet him here before he heads to New York and Los Angeles. One brave volunteer here will have her hair styled as a big tomato and the other's will be styled as the Brooks Catsup Bottle! Come see for yourself and help raise some money for Make-A-Wish! Presented by California Styles Collinsville, Manic Panic Hair Color and Gateway RV & Powersports.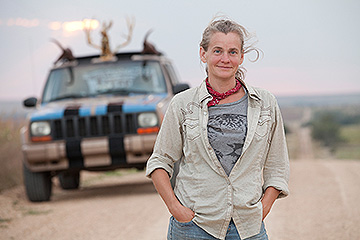 THE RETURN OF ERIKA NELSON!

Nationally famous artist and superlative expert Erika Nelson presents her

World's Largest Collection of the World's Smallest Versions of the World's Largest Things

traveling museum and sideshow extravaganza! All the way from Lucas, Kansas, Ms. Nelson will be available for photos and autographs all day long - say Hi and have fun 'cause you never know what you'll find in the exciting new sideshow display!



ROCKSHOW ACADEMY PERFORMS SONGS FROM "GREASE"

An elite crew of youngsters from the St. Louis area performing songs from the hit musical "Grease" at 10:00 AM ON the Laura Buick GMC Big Tomato Main Stage. Presented RockShow Academy of St. Louis - STL Kids Theater, Music & More.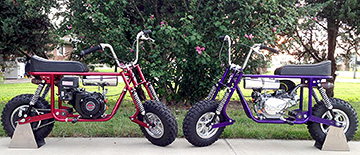 LIONS CLUB TACO MINI BIKE RAFFLE!
The Collinsville-Maryville Evening Lions Club will be raffling off not one, but TWO custom built TACO 100 B MINI BIKES! Powder coated frame, 6.5 HP engine, adjustable suspension, aluminum wheels and more! Each ticket purchased gives you TWO chances to win!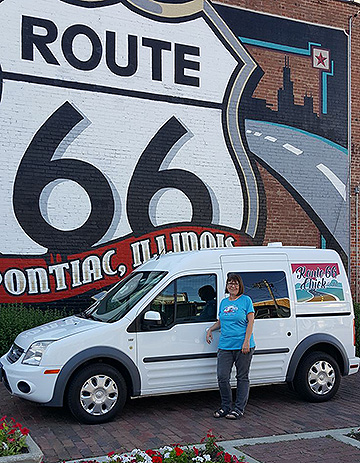 Meet & Greet: Route 66 Chick!

She's known nation-wide as the Route 66 Chick - so buy a book, get it signed, and chat about the Mother Road with Route 66 author and historian Cheryl Eicher Jett!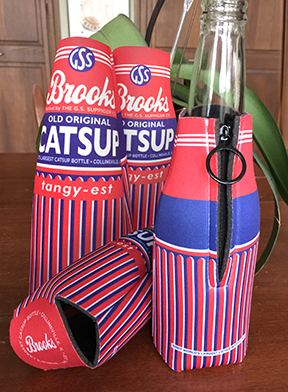 NEW MERCHANDISE!
A 2017 Catsup Bottle Festival Exclusive! Get your own brand new Catsup Bottle Bottle Koozie at this year's festival. Not available anywhere else! Keep it cool and make your friends do a double take as you drink out of an old original Brooks catsup bottle!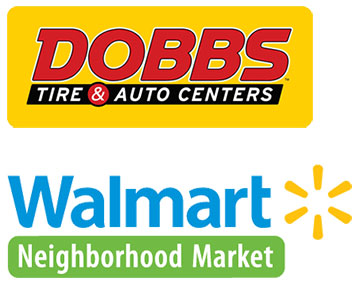 Welcome aboard to our 2 newest Tip-Top Top-Tier Sponsors!
Many thanks go out to Dobbs Tire & Auto Centers and Walmart Neighborhood Market - our 2 newest sponsors! In fact, Walmart Neighborhood Market will be providing the Happy Birthday cupcakes for everyone to enjoy, and Dobbs helped with the new Catsup Bottle Bottle Koozies!


---

Be sure to sign up for our free Catsup Bottle Fan Club emailing list so you don't miss any updates or big announcements!

•

Looking to purchase Brooks rich & tangy ketchup?
Click the Brooks sponsorship partner logo or this link right here:
www.brookscatsup.com


Visit our friends:

The Official World's Largest Catsup Bottle® Web Site at
www.catsupbottle.com

The C.I.A. "Cruzin' In Antiques" Classic Car Club at
www.theciacarclub.com


Follow the Brooks® World's Largest Catsup Bottle on Facebook & Twitter:



Custom Search





• Home • Sign Up • Archive • Car Show • Directions • Events • Pageant • Sponsorship •
• Vendors • Volunteer • Contact • Legal •